Corvinus University of Budapest has a 120-year history and is the leading university in Hungary in Business and Management, Economics and Social Sciences. We are one of the most prestigious European research universities. We have around 12,000 students, of which, approximately 2,000 are international.
Our AACSB and AMBA accreditations arguably place us amongst the top institutions for business-related programmes in the world.
Studying in Budapest, the commercial and cultural capital of Hungary offers significant benefits. English is well spoken. Budapest is an affordable, safe and exciting place to live - well connected with other capitals of Central Eastern Europe. The city attracts thousands of international students and millions of tourists annually. There are hundreds of multinational companies with headquarters in the city looking to recruit talented graduates.
International world rankings
QS Top Universities – 801-1000 overall (2022)
QS subject rankings (2021)
251-300 Business
251-300 Economics
251-300 Sociology
See below for our programmes in business, economics and social sciences in English at BA/BSc, MA/MSc and PhD levels.
Student Life
Lecture Halls
Corvinus University of Budapest has several grand lecture halls, some of which big enough to fit up to 500 people.Spacious, modern, and technologically integrated,they provide the best environment for our students to get the most out of their lessons.
University Library
The library of CUB is on the first floor of Building C, holding a print collection of about 400 thousand books, dissertations, manuscripts, and lecture notes. It provides access to a wide range of printed and electronic resources that support the learning, teaching and research activities of students and faculty. The collection focusing on economics, business studies, social sciences and related applied sciences is unique in Hungary.


Chill Zones
Across the corridors of building C, you can find many of our orange Chill Zones, where students usually sit together in between lectures, chill, study and socialise.
Sports Hall, Gym & Dance Hall
Corvinus has a sports hall, as well as a dancing hall and a small gym. The compulsory PE lessons are conducted in those, in accordance with the sports category. Every student has also the opportunity to obtain a membership card to our gym.
Dormitories
We have two dormitory buildings; however, their size does not provide enough space for all our students. That is why we usually recommend freshmen to be prepared to seek another accommodation.
Canteen
We have a functioning canteen in building C, with affordable menus and wide variety of daily meal options – it is the lunchbreak choice of many Corvinus students.
MyCorvinus App
The first application of the University, the MyCorvinus Application, is available, with the help of which you can see the latest news or the location of your next class on a map at any time, as well as your grades and much more.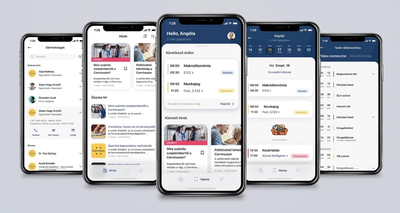 Contact Us
Address
Budapest, Fővám tér 8, 1093