Young 'Urban Heroes' introduce regional campaign against waste at ASEAN Mayors Forum
EU-funded representatives network with leaders for youth inclusivity in policy and decision-making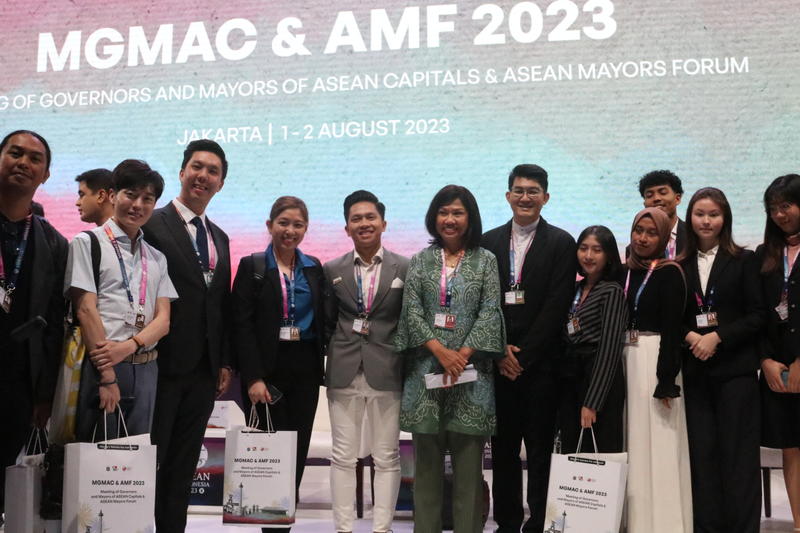 A regional campaign to galvanise ASEAN youth's contribution to sustainable urban development is now in full swing. Dubbed 'Urban Heroes', it aims to scale and replicate successful youth initiatives for the reduction of plastic and food waste across South-East Asia. The campaign was created following knowledge sharing between EU and ASEAN peers earlier this year during the EU-ASEAN Youth Exchange on Sustainable Urban Development in Bangkok.
Youths leading the campaign attended the ASEAN Mayors Forum (AMF) in Jakarta on 1 and 2 August. It was the first time that the forum included youth voices since its inception in 2011. They called on national and local leaders to include youths in policy and decision-making. The eight representatives, who hailed from Indonesia, Laos, Philippines, Thailand and Vietnam, intervened during the plenary session and in panel discussions alongside Governors, Mayors and other city administrators. Together, they examined pathways to sustainability from the angles of inclusive economic growth, digital transformation, resilient cities and climate action, and SDG localisation.
The EU-funded campaign, which implements the Youth Action Plan (YAP) in European Union external action for 2022-2027 – an operational roadmap for engaging and empowering youth in sustainable development, equality and peace – perfectly aligns with this year's AMF theme, 'Catalysing Regional Growth through Sustainable Development in ASEAN Cities'.
During their interventions, the youths shared their insights on the issues discussed by policy-makers and urged them to include the young activists in finding solutions. Panellists at the plenary session acknowledged the inclusion of youth under ASEAN's third pillar for integration (Socio-Cultural Community) and expressed their commitment to working together. Youths' contribution to the separate panels were also included in their recommendations and follow-up actions to the ASEAN Secretariat. On the sidelines, the youths engaged with over a dozen local government and institutional leaders, many of whom expressed their support for the campaign and delivered messages to other youths across the region. Their recorded interviews will be featured in a special clip to be released by the campaign on International Youth Day (12 August).
The key takeaways from AMF will be incorporated by the youths into a report that will be released at the end of the campaign. The report will summarise the campaign's achievements, identify the challenges ahead and pitch for continued support to achieve its set of aims for the path ahead. Data collected for the report will also be used to produce a booklet that will be distributed to high school students in order to raise awareness about food and plastic waste as well as present important tips for reducing it.
The youths' participation at AMF was covered by Indonesian media outlets, including in English by Tempo and in Bahasa Indonesia by Koridor, Krjogja, Liputan 6, Metro Jabar Pikiran Rakyat and Tribun Jabar.

Media and the public continue to follow the developments of the campaign, which are publicised on EUD's Facebook, Twitter and Instagram, as well as the campaign's Instagram.